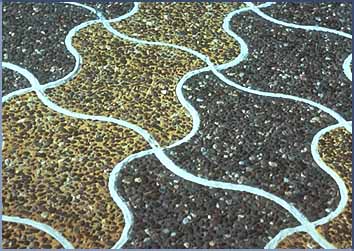 Innovative Mix-Ready® bags disintegrate during mixing for clean color handling and no environmental waste.
Ready Mix operators just toss unopened Mix-Ready® bags into the mixer. Mix-Ready® bags are made of special paper and adhesive which get soggy when wet and disintegrate during mixing. The bags release Davis Colors™ deep in the mixer to disperse uniformly. Color handling is clean and environmental waste is minimized.
Description
Mix-Ready® is the original disintegrating bag for concrete colors and has been used successfully in millions of yards of concrete. We have provided a mix rate calculator that will tell you how much pigment needs to be added to concrete to produce your desired color. We have also provided a usage cost calculator to help you discover how the addition of Davis Colors pigments will impact your bottom line. Also available is our architect's guide-spec for colored cast-in-place concrete.
Mix-Ready bags end the dirty looks from drivers with dust in their faces, and from dispatchers upset that measuring and adding color the old-fashioned way delays trucks.
Toss in and mix.  No opening required.
Davis Colors™ are lightfast, lime-proof, weather-resistant color "admixtures" made of metal or mineral oxides either recycled from iron or refined from the earth. (Supra-Instant®Black is a concentrated carbon black, treated in a proprietary process for extra tint strength and dispersibility. It is an economical alternative where concrete is not air-entrained and is protected against water damage.)
Availability
Davis Colors™ in Mix-Ready® bags are available direct from our factories and through Authorized Distributors across North America and numerous international locations. A wide spectrum of pigments are in stock to produce the standard Davis Color or special shades. Convenient one, five and 25-pound Mix-Ready® bags are standard; batch-sized, metric, and specially-sized packages can also be ordered. Bags are packaged into bundles and shipped on pallets of up to 2,000 lbs. Custom colors, special handling, and volume disc
ounts are available to meet unique job requirements.
Mix Design
Determine pigment number and pigment dosage rate from the Davis Color Card. Custom shades are made by varying the amount of color added to the mix. Typical dosage rates range from one to five pounds of Davis Colors™ per 94 pound (1 cu. ft.) of cement content. Approx. 1 to 5% of cement content.) Cement content includes portland cement, fly ash, silica fume, lime and other cementitious materials but not aggregate or sand.
We offer a complete line of compatible sealers for colored concrete: Davis W-1000 Clear Cure & Seal™ and Color Seal II™.
Increase Sales with Compatible Products — W-1000 Cure & Seal™, which is clear and Color Seal II™, which is tinted to enhance the surface, are made especially for curing and sealing colored concrete.